Celebrating the Rich Culture
Saturday, December 7, 2013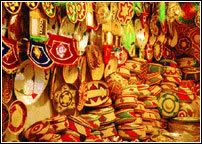 Organised annually, at the start of the winter season in the federal capital by the Ministry of Culture and Lok Virsa, the Lok Virsa Festival provides an opportunity to local and foreign visitors to savour the cultural diversity of Pakistan in all its colourful splendour.
The event is also an endeavour for creating in Pakistanis an understanding and appreciation for cultures and communities that exist in other regions of the country. In this way, this cultural gala also plays a role in forging and fostering national harmony and integration.


Marked by verve and zest, with folk artists and artisans dressed in gay, multi-hued attires, dancers swaying to traditional tunes, musicians singing traditional songs, craftsmen creating and displaying their traditional arts and crafts, one experiences a highly palpable excitement upon visiting the festival. And then there is the rural cuisine which is also a part of this colourful fair.
Read more »
Labels: Rural Culture
posted by Doll at 8:30 AM
0 comments
links to this post